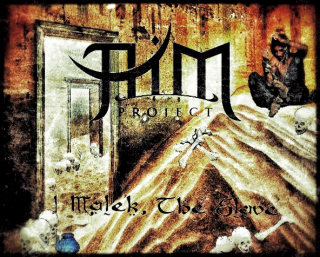 With its very first EP "Bismillah", AIM Project gives you four modern progressive metal tracks where the catchiest oriental sounding melodies meets up with modern riffs and hardcore vocals. This EP can be considered as a Genesis of a new kind of Oriental and Progressive Modern Metal that offers you Anas Ibn Malek Abid. With the brand single "I Malek, The Slave" which features Mehdi Ghanem on vocals this time, AIM Project comes back with a strong identity.
Here the video 'I Malek, The Slave' of AIM Project

Anas Ibn Malek Abid had already attracted attention on him with the release of his very first solo album "A Neverending Pain Of A Betrayed Man" in 2011.
Mixed in the Secondary Sound Studio (Missouri, USA) and mastered at the Walnut Groove Studio (Amiens, France) in order to get a massive and modern sound ; "Bismillah" can be considered as an introduction to Anas Ibn Malek's musical world who wants to distance himself from the actual music productions.
By bringing together oriental melodies a la Orphaned Land, and technical and massive riffs proper to the Modern Metal, and hardcore and feminine vocals of Florian Térèse and Salomé Perli, AIM Project brings something fresh and inventive.
Accorded to its mastermind Anas Ibn Malek (Solo Artist-Producer) :
"I wanted to talk about the origin of my country, Tunisia, which was founded by a phenician Princess called Elyssa. Starting from there, i thought i should invent a story about her legacy. The full album is gonna be conceptual as i did for my very first EP "Bismillah" that i had released in 2012, and Malek The Slave is one of the two protagonists of this story, and it's gonna be more groove oriented".